Bitcoin partially recovers from Wednesday's sell-off, though downside risks remain, with market focus likely to shift to US nonfarm payrolls on Friday.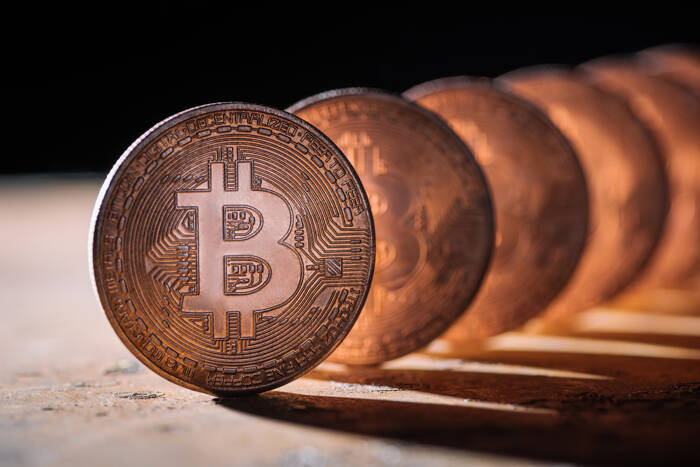 Key Insights:
On Thursday, bitcoin rose by 2.18% to log a fifth daily gain from six sessions.
While market angsts over inflation and Fed monetary policy lingered, a NASDAQ rally delivered support ahead of Friday's US nonfarm payroll numbers.
Bitcoin (BTC) technical indicators flash red, with bitcoin sitting at the 100-day EMA.
On Thursday, bitcoin (BTC) gained 2.18%. Partially reversing a 6.27% slide from Wednesday, bitcoin ended the day at $30,440.
A mixed start saw bitcoin fall to an early morning low of $29,574 before finding support.
Steering clear of the day's Major Support Levels, bitcoin rallied to a late intraday high of $30,647.
Falling short of the First Major Resistance Level at $31,389, however, bitcoin slipped back to sub-$30,500.
A lack of regulatory chatter left bitcoin and the broader crypto market in the hands of the US equity markets. A NASDAQ rally delivered support through the afternoon session.
The Bitcoin Fear & Greed Index Sends Bearish Signal
Today, the Fear & Greed Index fell from 13/100 to 10/100 despite bitcoin's return to $30,000.

Fear & Greed 030622
While falling deeper into the "Extreme Fear" zone, the Index held above May's low of 8/100.
Regulatory uncertainty and investor jitters over the economic outlook, inflation, and Fed monetary policy remain market negative.
On Friday, US nonfarm payroll figures (NFP) for May could define the Fed's interest rate path through to September. We, therefore, expect bitcoin sensitivity to Friday's figures.
Disappointing US nonfarm payroll figures from the ADP delivered the NASDAQ with support on Thursday. According to the ADP, nonfarm payrolls increased by 128k in May, falling short of a forecasted 300k rise. In April, US nonfarm payrolls had risen by 211k.
The latest 24-hour liquidation figures reflected improving investor sentiment.
According to Coinglass, 24-hour BTC liquidations stood at $117.21 million, down from $350 million levels, and just $0.459 million for the last hour.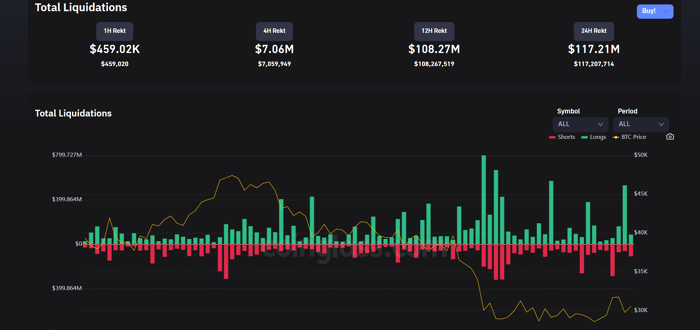 Total BTC Liquidations 030622
Bitcoin (BTC) Price Action
At the time of writing, BTC was up 0.04% to $30.453.
Bitcoin rose to an early high of $30,490 to test resistance at $30,500 at the turn of the day.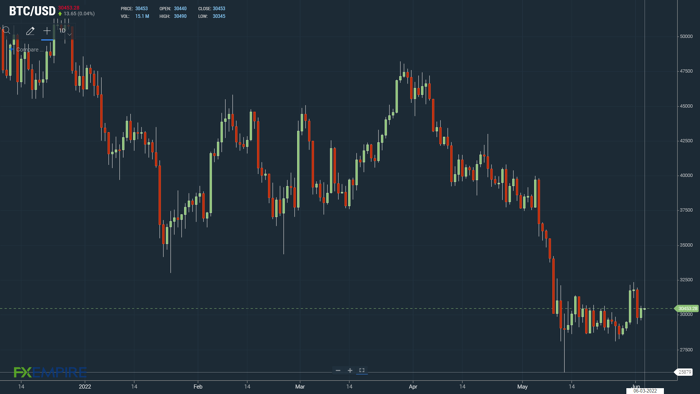 BTCUSD 030622 Daily Chart
Technical Indicators
BTC will need to avoid the $30,220 pivot to target the First Major Resistance Level at $30,866.
BTC would need the broader crypto market to support to break out from $30,500.
An extended rally would test the Second Major Resistance Level at $31,295 and resistance at $32,000. The Third Major Resistance Level sits at $32,366.
A fall through the pivot would test the First Major Support Level at $29,791. Barring another extended sell-off, BTC should steer clear of sub-$29,000 levels. The Second Major Support Level at $29,145 should limit the downside.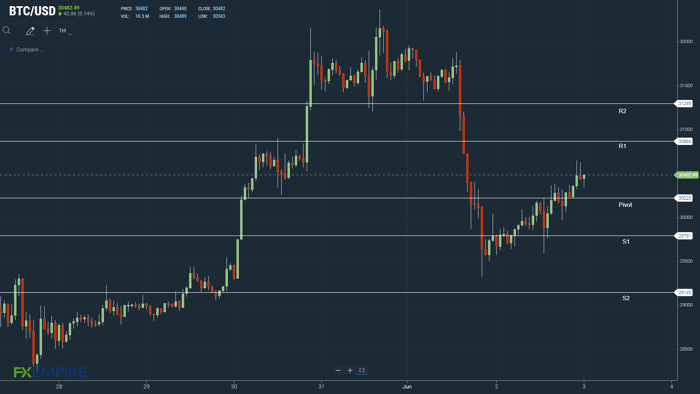 BTCUSD 030622 Hourly Chart
Looking at the EMAs and the 4-hourly candlestick chart (below), it is a bearish signal. Bitcoin sits on the 100-day EMA, currently at $30,271. The 50-day narrowed to the 100-day EMA. The 100-day EMA closed in on the 200-day EMA, BTC positive.
A move through the 100-day EMA would support a run at $32,000. Friday's US nonfarm payrolls could prove key.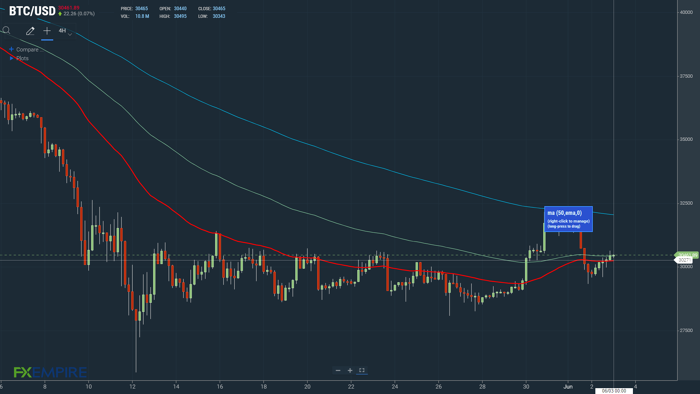 BTCUSD 030622 4 Hourly Chart